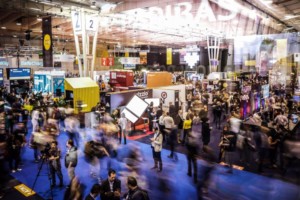 A Fundação AIP manifesta a sua satisfação e orgulho no trabalho de cooperação que desenvolve, desde sempre com a Administração Central e Autárquica, reforçada nos últimos anos com a Câmara Municipal de Lisboa e com o Governo Português, de que é exemplo a confirmação de que Lisboa e a FIL continuarão a ser por mais dez anos as anfitriãs do Web Summit.
Na certeza da sua continuada dedicação para com o Web Summit, estará a Fundação AIP empenhada em elevar ainda mais o nome de Lisboa enquanto cidade empreendedora, inovadora e talentosa e emprestará o seu melhor contributo, fundado na excelência e competência dos seus colaboradores e evidenciando na reconhecida capacidade da FIL (Feira Internacional de Lisboa) e do CCL (Centro de Congressos de Lisboa) na organização de grandes eventos e conferências nacionais e internacionais.
AIP Foundation manifests its satisfaction and pride in the cooperative work that has always been developed in conjunction with Central and Local Administration, reinforced during recent years, with the Municipality of Lisbon and the Portuguese Government, of which the endorsement that Lisbon and FIL will continue to host the Web Summit for the next ten years is a prime example.
Confident of its continuous commitment to Web Summit, AIP Foundation is dedicated to further promoting the reputation of Lisbon as a city of entrepreneurship, innovation and talented citizens, and will offer its utmost contribution, founded on  the excellency and skills of its employees  as well as manifested in the acknowledged competence of FIL (International Fair of Lisbon) and CCL (Lisbon Congress Center) for organizing great events and national and international conferences.